Advanced Air Ambulance Service in Dhaka
Air Ambulance Dhaka, Almas Ambulance Services Worldwide is a reliable destination to seek for Air Ambulance services in Dhaka, the capital city of Bangladesh. Transferring a patient by air becomes easier and cheaper as well by getting professional air rescue services from Almas Ambulance Services. Experienced staff members and highly medically equipped air ambulances are offered by the company at very reasonable prices. With an aim to shift a patient from Dhaka to another place or abroad, if you contact Almas Ambulance Service then you will get a very good response. This is the reason; the demand of Air Ambulance Services in Dhaka, offered by Almas Ambulance Services is increasing day by day.
Attain the top-quality medical flight services from Dhaka to meet the emergency patient transferring needs for shifting a patient by contacting Almas Ambulance Services Air Ambulance Worldwide. Personalized medical team accompany the patient during the shifting process. Flight coordinators and other staff members are friendly and knowledgeable too in their respective fields, which ensure a good quality air ambulance services from the company. Whether you want to get emergency air evacuation services or you want to get cheaper air ambulance service. In any case, you can contact Almas Ambulance Services. They will leave no scope to shift your patient from Dhaka with utmost care as they are trained and dedicated to serve you.
Book Online or Offline the Below Air Ambulance Service in Dhaka:-
– Low-cost Air ambulance services
– Advanced Train ambulance services
– Trusted Road ambulance services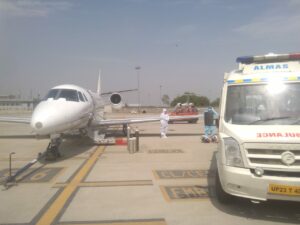 – Reliable air evacuation services
Well Trained Doctor and Paramedic Staff That Includes:-
Cardiologist.
Paediatrician.
ICU Trained Registered Staff.
Paediatric and Neonatal Staff.
Emergency Physician & Nurses.
Anaesthetist / Respiratory therapist.
Advanced Life Support Paramedics.
We offer a wide choice of large fleet dedicated Air Ambulance aircraft's meets individual's requirements & budget.
Equipped with state-of-the-art medical equipment.
Ready to fly even a short notice of time.
Facility for patient shifting by commercial flights.