Emergency Ambulance Service in Bangalore
Ambulance Services in Bangalore, Air Ambulance coverage may come in handy if you are injured while traveling or if you require medical care due to an emergency or a medical condition that requires specialized care that is not available in your local hospitals or health-care service centers. It may be used during an emergency or to obtain specialized services.
Bengaluru (also called Bangalore) is the capital of India's southern Karnataka state. The center of India's high-tech industry, the city is also known for its parks and nightlife. By Cubbon Park, Vidhana Soudha is a Neo-Dravidian legislative building. Former royal residences include 19th-century Bangalore Palace, modelled after England's Windsor Castle, and Tipu Sultan's Summer Palace, an 18th-century teak structure.
EASY TO BOOK AN AIR AMBULANCE SERVICE IN BANGALORE AT ALMAS AMBULANCE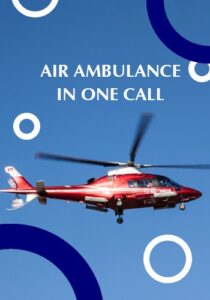 By following a simple process, you can book an air ambulance at Almas Ambulance. By contacting the source with your need over the phone, you will get knowledge about the simple process. Experienced staff members will guide you in depositing the charges in the bank account. They will help you get the service faster too. The readiness of the source in offering the services makes the facility more lucrative to the people. So, don't lose the scope of saving precious time and life of your patient.
Having the experience of transporting serious patients by Almas Ambulance play a crucial role in the field of Air Ambulance Service in Bangalore and Train Ambulance Service in Bangalore. The service is invaluable to the family members, who are feeling worried about shifting their patients safely. And at a faster time from Bangalore to another destination in India. If you are in need of emergency patient transport services! Then contact us which is a pioneer destination to hire reliable services.
Air Ambulance has branches in Bangalore and all over India. We take care of patients and this process is completed by our expert and experienced medical team. Call us directly to get this ambulance service Because of Almas Ambulance provide an inexpensive and advanced air ambulance service across India.
What Are the Costs of Air Ambulance?
Air Ambulance Cost should be included in the cost of medical service. When a critically ill or severely injured person is airlifted to nearby hospitals, the person is provided medical attention as he gets first aid in the aircraft, he is carried in. The airplane is equipped with advance medical devices and the experienced medical team to provide care to the needy people while they are shifted to medical facilities. Advantage of these air crafts is that they need small areas to land and take-off. They can airlift patients and injured from anywhere and shift them to hospitals and clinics. We at Almas Ambulance also provide the services like air ambulance services Bangalore, Train ambulance services Bangalore, Road ambulance service in Bangalore, Ground ambulance service in Bangalore, Rail ambulance service in Bangalore.