What is Air ambulance and why is it so costly in India?
The use of an airplane or helicopter to transport patients to and from medical facilities and accident scenes can be referred to as "air medical services". Moreover, during an aeromedical evacuation, staff members provide all patients with essential pre-hospital care.
Additionally, they perform rescue missions in helicopters, jet aircraft, and propeller-driven aircraft. In India, many people don't receive medical care during the crucial window of time that can save their lives. This is where Medevac can arrive at the scene in 10 minutes as opposed to the 20 minutes. It will take ambulances to get there.
That said, Aircraft have been used for medical emergencies ever since World War 1. But during the Korean and Vietnam wars, the roles multiplied tenfold. The aircraft are now also used for emergencies involving civilian patients.
The concept of Air ambulance: –
In the event of a medical emergency, injured or ill people are transported using an air ambulance. Which can be either a specialized helicopter or fixed-wing aircraft. They have the ability to access remote locations that a wheeled ambulance cannot. Furthermore, fixed-wing aircraft quickly transport patients in need of medical attention abroad. Besides, Aeromedical operations include these and related activities and the same air ambulance is dispatched to search for a missing or sought-after individual.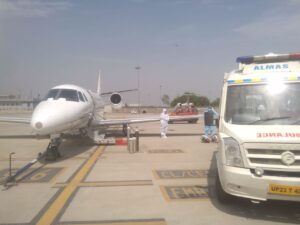 Additionally, similar to a ground ambulance using lights and a siren. Air ambulance operations receive special treatment from the Air Traffic Control (ATC). Also, Air ambulance aircraft decide to sign MEDEVAC and receive priority handling both in the air and on the ground when this occurs. The medical support provided by these air ambulances will last until the patient arrives at the hospital.
As we talked about Air ambulance in India, most of the people are concerned about why air ambulance cost from Lucknow to Delhi . Or any other city in India is so high. Well, to take a deep dive into this concept, let's talk about the factors impacting this cost.
Factors Affecting the Cost of Air ambulance:-
When transporting patients from a distant country home, air ambulance companies must overcome a number of challenges. That said, the cost of fuel for the medevac back home is higher the further away they are.
The following are the various elements affecting the air ambulance cost from Lucknow to Delhi or any other city in India: –
Distance Traveled: –
It will be less expensive to fly patients from a distant nation to the best medical facility nearby. However, it will cost more if the patient's family requests that they be transported home for treatment. Therefore, cost also increases in direct proportion to distance.
Required Aircraft Type: –
A medical flight's required ambulance aircraft depends on the state of the patient, the number of passengers, and the equipment required. Additionally, since a helicopter ambulance can take off and land at the hospital without the need for a ground ambulance. The journey for critically ill patients can be shortened. To ensure a safe journey to the closest facility. However, people flying after a stroke may need an aircraft with specialized medical equipment and professionals.
Medical Personnel Will Accompany the Patient: –
The air ambulance cost from Lucknow to Delhi is also impacted by the medical staff that rides in the air ambulance with the patient. Pilots, nurses, and doctors will be on board to provide onboard emergency medical care. This guarantees the patient's security up until they arrive at the hospital.
Authorization to Visit High-Risk Areas: –
If the patient is from a region that is regarded as high-risk or as a combat zone, air ambulance cost from Lucknow to Delhi or any other city in India will increase. It will be even more expensive to ask for permission for MEDEVAC in such circumstances. Because of this, the cost of an air ambulance is also rising.
Parking Fees at Airports: –
Airports levied landing and handling charges when patients were flown out. Moreover, the benefit of medical evacuation is immediately impacted by this. If the airport is kept open for the air ambulance to land or take off, additional air ambulance cost from Lucknow to Delhi may be assessed.
Conclusion: –
These are the five main factors that, as was already mentioned, greatly influence the air ambulance cost from Lucknow to Delhi or any other city. Air ambulance services are also crucial and necessary in emergency situations.
Because the patient's safety is more important than money, the air ambulance cost is frequently disregarded. That said, if you need best quality Air ambulance services at a lower air ambulance cost from Lucknow to Delhi, you can always try Almas ambulance services.
Over the years, Almas ambulance services has provided timely medical attention and care to thousands of patients at a really affordable cost. So, just in case you need an immediate medical attention, trust Almas ambulance services.