Air Ambulance Services in Dubai (UAE):-
Air Ambulance Services in Dubai (UAE), Air ambulance makes use of an air transport such as an airplane or helicopter for the sole purpose of moving the critically ill patients to and from the healthcare facilities for better treatment. This transportation is also put to use to evacuate the people from accident or disaster scenes to the hospitals. The personnel that handles the entire process make comprehensive use of the pre-hospital facilities, emergency services. And critical care facilities present aboard for temporary life sustenance to the patients being evacuated during aero-medical rescue operations. We Have The advantage of this helicopter cased patient transport services includes the quick and higher level of care to the patients stuck at trauma scenes. And also improves the accessibility to high-class medical centers for further treatment.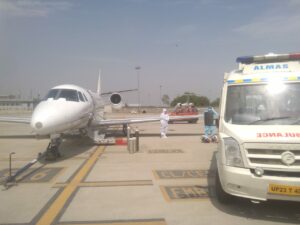 Emergency Air Ambulance Service in Dubai:-
In case of medical emergencies, time is the real essence. Even a minute wasted can be pretty risky for critically injured or ill patients. At such a time, you seek the help of a company you can trust to take care of your safety while transporting you to a safe place in time. We at ABC understand your predicament and thus provide you with the best Air Ambulance Service in Dubai. And such thoughtful air ambulance services that are tailor-made to suit the needs of all. We are the best emergency specialists in the sky.
The whole idea was conceived and promoted in accordance with a team that comprises of experienced and well-qualified attendants, doctors, nurses, air aviation specialists. And more. Presently, we are the leading provider of air ambulance services in UAE Dubai. All this and more makes "Almas Ambulance Services" your go-to solution. Because we are best suited to deliver customized emergency Patient transport solutions.
Ambulance Service in Dubai:-
Therefore, when times we will quickly fly and come to help you with the best air ambulance services in Dubai. Our motto is – Time saved is a life saved. We provide the fastest means to provide you medical help and also transport you to better health care centres for critical treatment. Our air rescuers in Dubai work 24 hours and 7 days a week to guarantee you reliability, confidence, and precision of aero-medical services. We want to help the society with our wide operational base, excellent aero-medical care facilities. And the Affordable air ambulance services in Dubai.