Ambulance services in Friends colony, Delhi:-
Ambulance services in New Friends colony, Delhi, Road Ambulance coverage may come in handy. If you are injured while traveling or if you require medical care due to an emergency at home. Or a medical condition that requires specialized care that is not available in your local hospitals or health-care service centers. Almas ambulance may be used to shift  your patient to higher Centre for better treatment.
We provide the Best Ambulance services to your patients, With a team of experts we give better comfort to our patients during any critical conditions at a time of transportation. Our Road Ambulance services are running around the clock i.e. 24*7.
During the transportations of a patient from state to state or abroad we come up with the Air ambulance &  Train ambulance services with very much professional & economical way, in which our professional team gives the complete care to the patient. Our air & train ambulance services are well equipped which helps to tackle any medical emergency during transportations of the patient.
Ambulance services New Friends colony, Delhi:-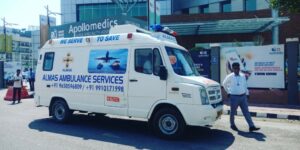 We are the industry leader in air ambulance transportation. We provide Domestic and International Air ambulance flights, medical repatriation flights.
Almas offers best-in-class equipment that is already equipped in the ambulance for the support of patients. We assure you are in good hands.
Almas Ambulance Services has been the leader in the air ambulance service industry for more than 10 years. Our critical care flight nurses and flight medics.
In an emergency, our professional team can handle any situations during the transportation of patients to the nearest Hospitals in the New Friends colony. We are available around the clock for our Ambulance service in the New Friends colony we are just one call away. Your Life Matter To Us!