When Is the Need for an Emergency Ambulance Service?
Ambulances can help many people during any medical emergency. Moreover, there are times when there is a shortage of ambulances, such as during pandemics. Besides, our healthcare industry is suffering as a result of this scarcity. On the other side, ambulance services are crucial, and we should all be aware of their availability.
The World Health Organization (WHO) states that there must be one ambulance available for every 10,000 people. Still, for 1.3 billion people in India, we have just more than 10,000 ambulances. Besides, the country now has more ambulances than before the pandemic, though.
On the other side, all ambulance types, including BLS (Basic Life Support), ALS (Advanced Life Support), and PTS (Patient Transport Support) ambulances, must be present. Depending on how seriously ill the patient is, these ambulances are used. Since each ambulance has a distinct purpose, they are all outfitted differently.
We can say that emergency ambulance service in Faridabad or any other cities are helpful in a variety of ways. Still, everyone should be aware of when to call for an ambulance and which ambulances are best for each patient depending on the circumstance.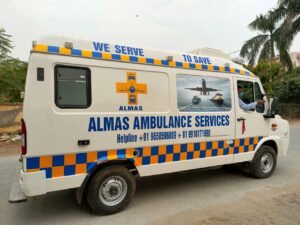 Moreover, during an emergency or whenever you believe medical assistance should be provided. Also, you must call an ambulance service at such times. Besides, you might be able to get to the hospital more quickly because everything will be under control. Also, it aids us in providing the patient with better care.
That said, here are some of the scenarios and triggers that warrant calling ambulances: –
1) Mishaps that result in bleeding or injury:-
We must call an emergency ambulance service in Faridabad if there are injuries in any accident. Since ALS has the resources to handle serious accidents, it is preferred in these situations. The advanced equipment in ALS ambulances that deal with severe injuries includes an oxygen supply. You can also get BLS if the injury is not too serious.
2) Severe abdominal or chest pain:-
The body can occasionally experience pain, but to treat it as an emergency, it must be sudden, severe, and last for at least three to four minutes. For a medical emergency, it is better to call an emergency ambulance service in Faridabad than to wait for any assistance. The nature of the pain is always a mystery. As a result, it is wise to get to the hospital quickly. Moreover, you can dial any ambulance service number in your area to obtain an ambulance in India.
3) During a heart attack:-
Make an ambulance call if someone nearby is experiencing heart pain. Since heart problems are so delicate, be sure to call an ALS ambulance. ALS ambulances are better equipped to handle such circumstances with care and professionalism. Whether it is an elderly person, an adult, or a child, call an emergency ambulance service in Faridabad to get to the hospital on time. It can assist you in resolving the issue and lowering the risk.
4) Being unconscious or dizzy:-
Fainting and unconsciousness can be caused by a list of factors. Moreover, dehydration can sometimes be the cause. Though it might be severe if it lasts too long, try using general methods to awaken the person as this unconsciousness could be caused by any severe allergic reaction. If that doesn't work, make a call for an emergency ambulance service in Faridabad.
That said, if the patient is physically weak, has numbness in their eyes, and can speak normally. Never hold off on anything. Reach out to the nearest ambulance service and seek medical attention at the hospital.
5) Breathing Problems:-
You must dial an ambulance equipped with a ventilator and an oxygen cylinder whenever someone complains of breathing difficulties. Moreover, any serious issue could be the root of the respiratory problem and we ought to look out for both our own needs and those of those around us.
Final words: –
An emergency ambulance service in Faridabad is needed in a variety of situations besides those mentioned above. Moreover, when people exhibit unusual mental behavior, or when patients need to be moved from one location to another, when they have severe chronic diseases, and in many other situations, ambulance services may be required.
That said, Almas ambulance services is the one-stop solution to all of the aforementioned issues. Besides, ambulance services for ALS, BLS, and PTS are all available and you can get the best ambulance services for the lowest cost.