Advanced Air and Train Ambulance Services in Guwahati
Guwahati is a sprawling city beside the Brahmaputra River in the northeast Indian state of Assam. Ambulance Services in Guwahati provide the best and reliable services. Guwahati is known for holy sites like the hilltop Kamakhya Temple, featuring shrines to the Hindu deities Shiva and Vishnu. To the east, 18th-century Navagraha Temple is an astronomical center with planetary shrines.
Umananda Temple, dedicated to Shiva and covered with engravings, stands on Peacock Island in the river. The major role of this Almas Ambulance Air Ambulance Services in Guwahati and Train Ambulance Service has to help the patient to arrive destination so fast and on-time.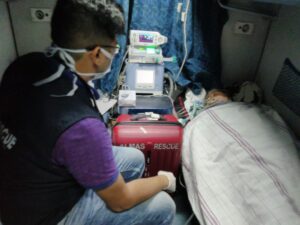 Book Online or Offline Air and Train Ambulance Service in Guwahati:
– Low-cost Air ambulance services
– Advanced Train ambulance services
– Trusted Road ambulance services
– Reliable air evacuation services
Well Trained Doctor and Paramedic Staff That Includes:
Cardiologist.
Pediatrician.
ICU Trained Registered Staff.
Pediatric and Neonatal Staff.
Emergency Physician & Nurses.
Anaesthetist / Respiratory therapist.
Advanced Life Support Paramedics.
Additional Benefits of Almas Ambulance Services.
We offer a wide choice of large fleet dedicated Air Ambulance aircraft's meets individual's requirements & budget.
*Equipped with state-of-the-art medical equipment.
*Ready to fly even a short notice of time.
*Facility for patient shifting by commercial flights.
Emergency Contact No:- 9999168707 +91-9650596809 | Click Here For Inquiry